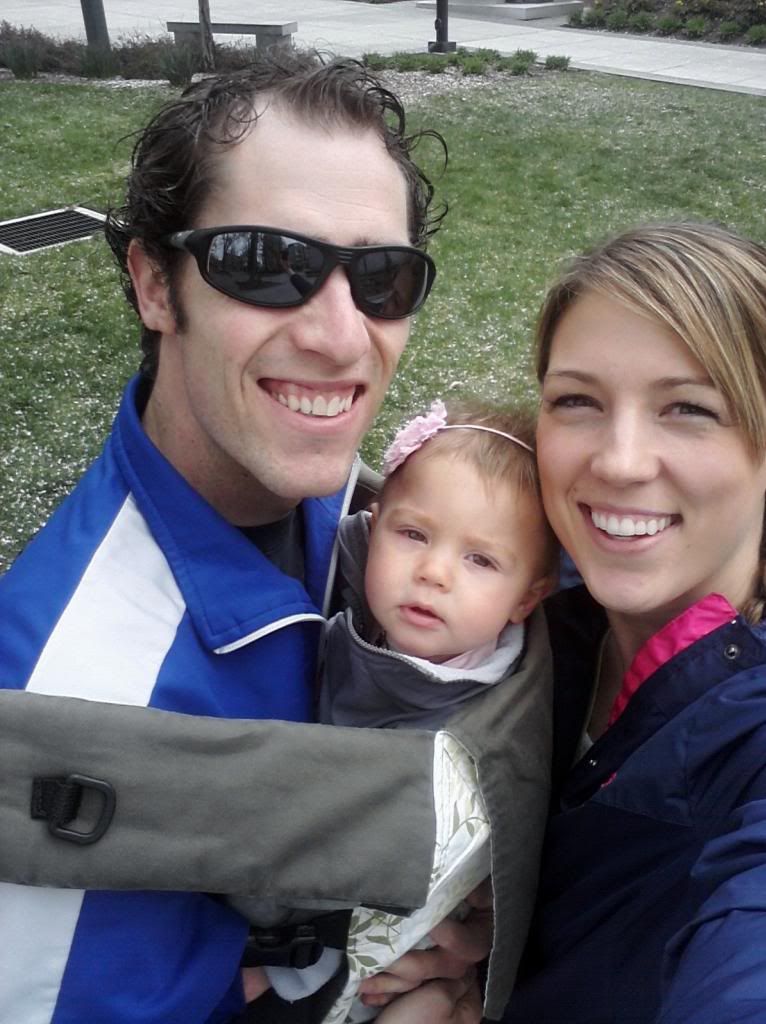 The Fam
We had a nice little getaway this past weekend to Salt Lake and mixed business with pleasure. Thomas had a meeting at University of Utah to learn more about the PA program and we decided to just make a long weekend out of it.
We arrived on Thursday and Brooklyn and I hung out at my grandma's while Thomas had his meeting. My grandma is so fun to chat with.
We stayed at the Hyatt Place in downtown Salt Lake and it was just a couple of blocks from my grandma's apartment and temple square. We loved that it had a little divided between the bedroom and the living room area so that we didn't disturb Brooklyn when she was sleeping.
Brooklyn was a champ both on the 5 hour drive there and back. No tears at all from the little princess. She didn't nap much because we were out and about all day but did manage one 45 minute nap each day and she slept fine at night. Traveling with a baby always makes me anxious but I am usually pleasantly surprised.
Friday we toured temple square. I think I have always visited temple square either during conference or Christmas time when it is super busy so it was nice to be there with no crowds. We went through the art museum, visitor centers, assembly hall, and then stopped to pick Grandma up for a late lunch/early dinner. We headed over to City Creek Mall and ate at the Blue Lemon. I've been craving it since we last went in October! The restaurant is all about fresh, healthy food and it is so so yummy. Fast friendly service and delicious food. Afterwards Grandma treated us to chocolate treats from Rocky Mountain Chocolate Factory.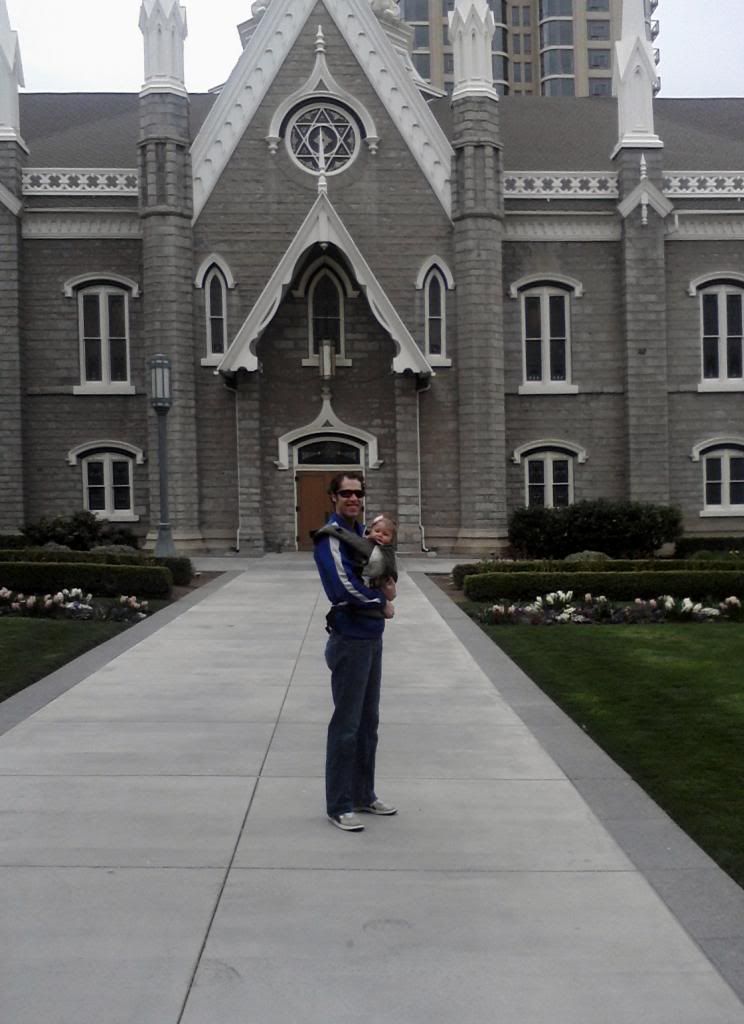 Thomas and Brooky Bear outside the Assembly Hall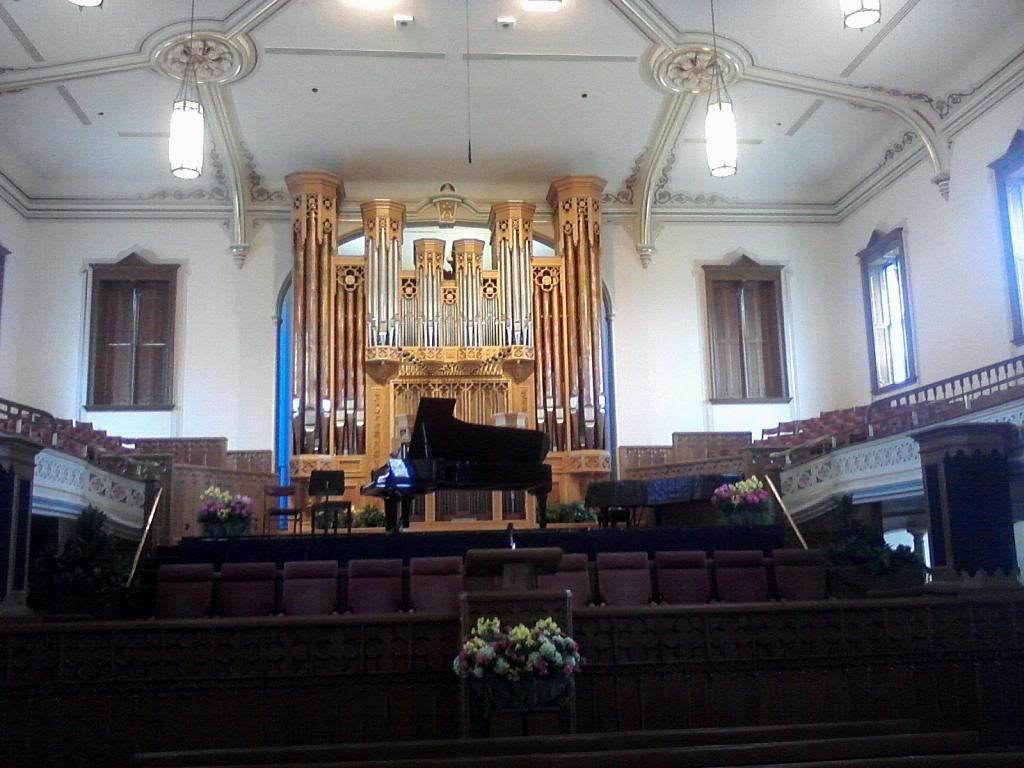 Inside the assembly hall. The pews are super close together, people must have been short back when they built it cause I couldn't even cross my legs.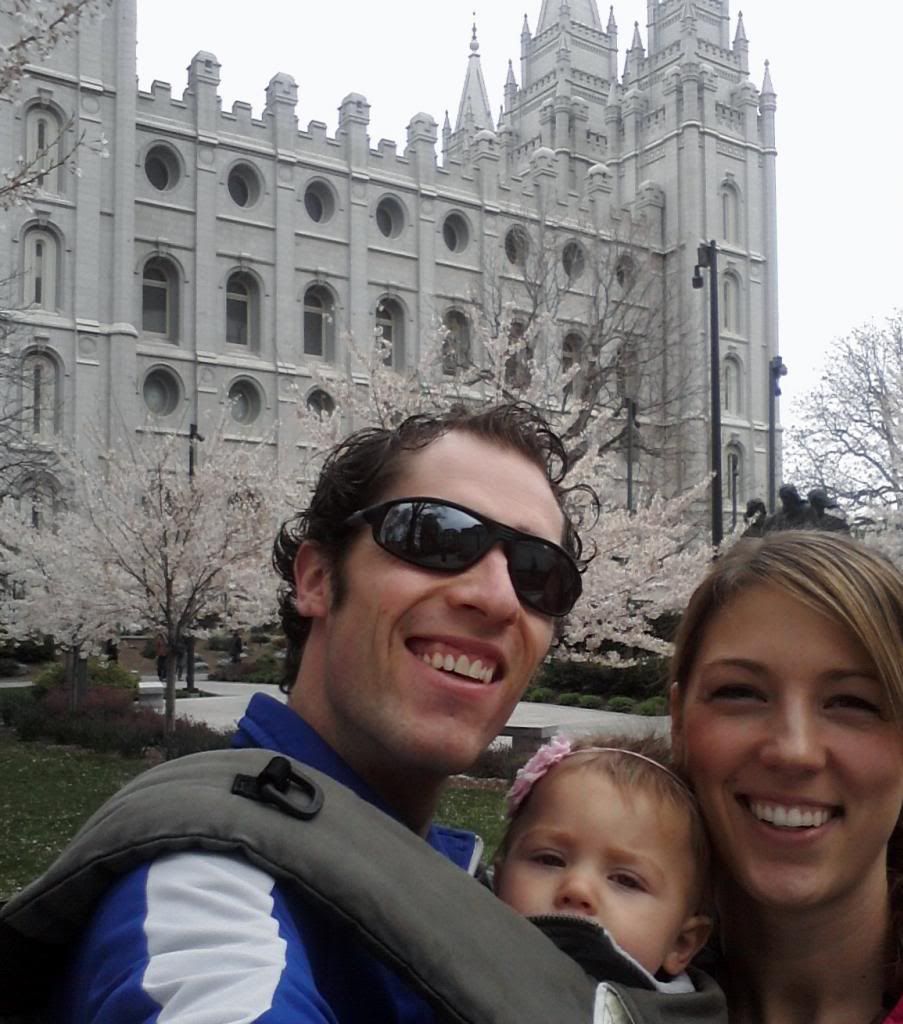 Love the blossoms on the trees surrounding the temple.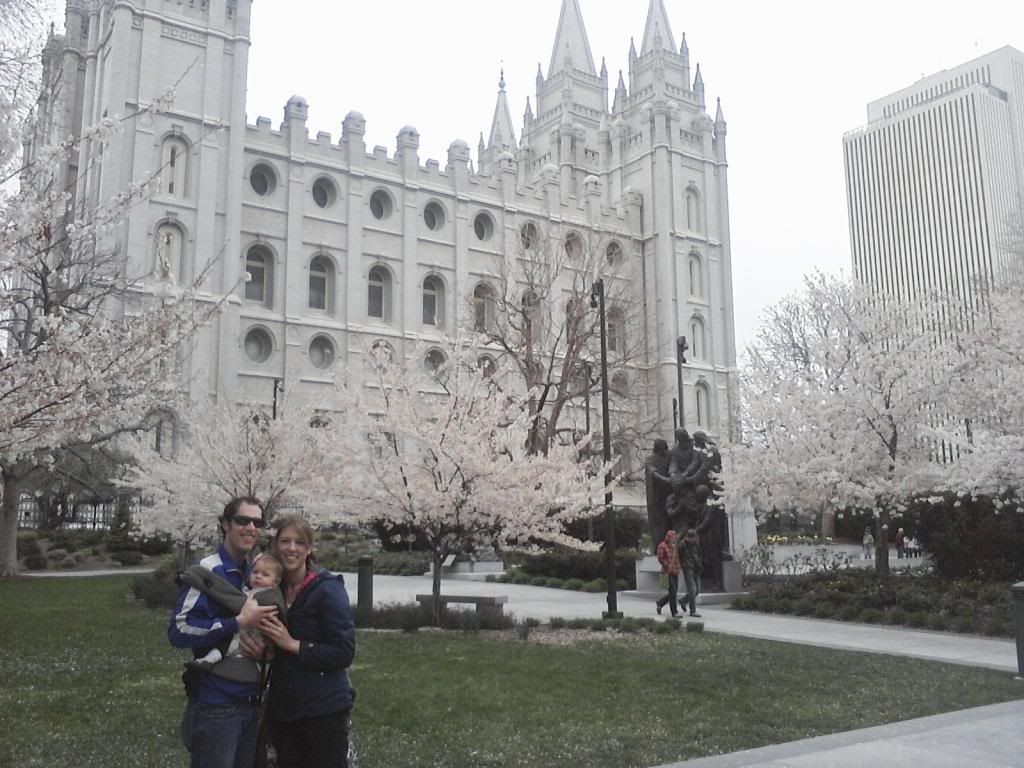 Families Can Be Together Forever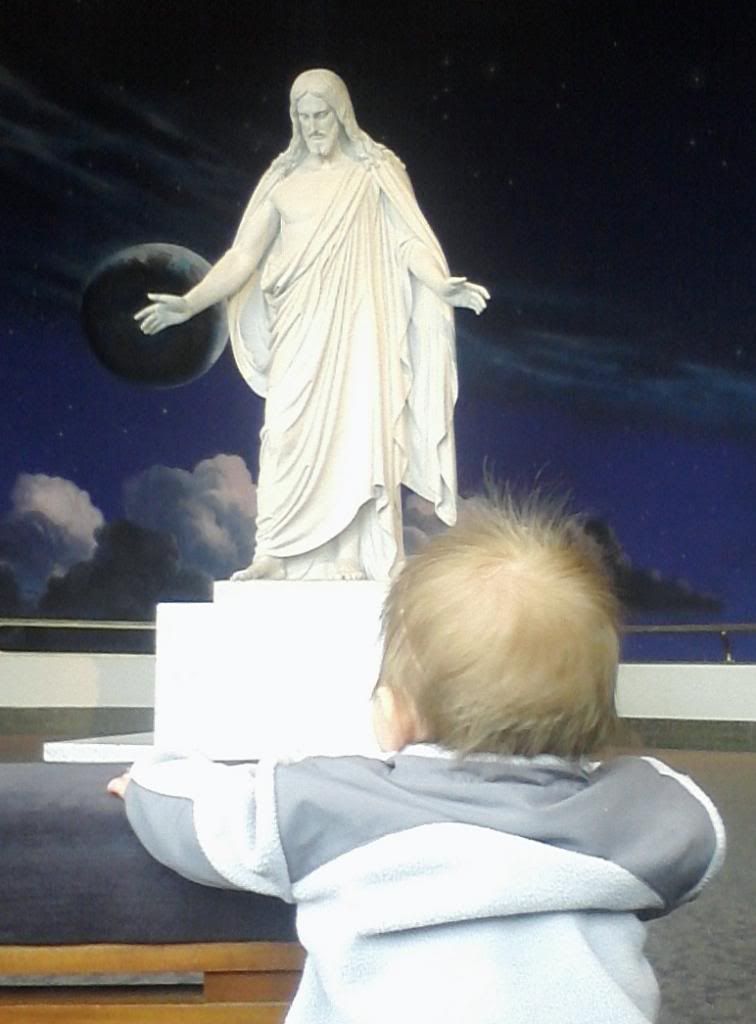 As soon as Brooklyn caught sight of the Christ statue she just stared.
Grandma headed back to the Family History Library and we went to our hotel to get in the hot tub and relax.
Saturday we had a fun day checking out and getting some goodies from Trader Joe's (Boise is getting one next year!) and browsing Ikea. We met one of my college friends Carrie for lunch at a cute little Mexican restaurant. That evening Grandma treated us to dinner at Olive Garden.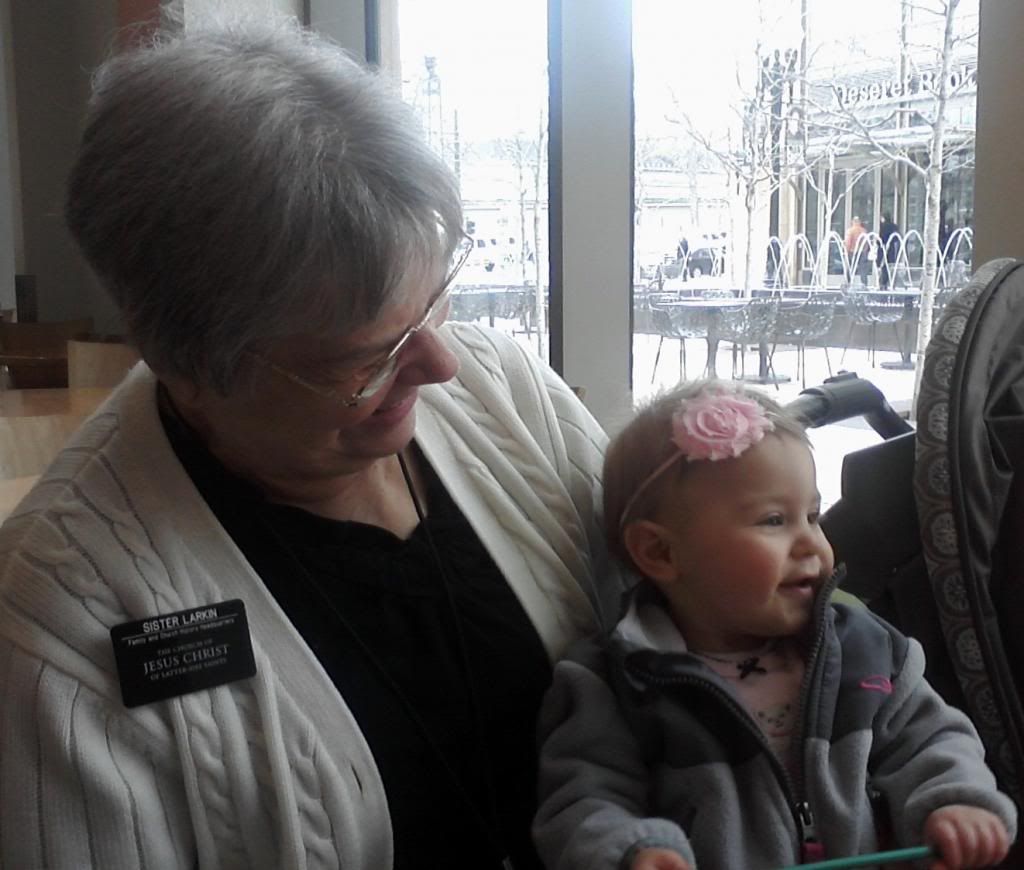 Getting loves from her great grandma.
Before heading back on Sunday we went to church with Grandma. We loved spending time together as a family and being able to get away for a bit.