This past weekend Thomas' grandma, Brooklyn's great-grandma, came to visit! We were so glad to have her get to know Brooklyn more. At first Brooklyn was a little scared, like she always is around someone she doesn't recognize. But after a day she would just chatter away with her Great-Grandma.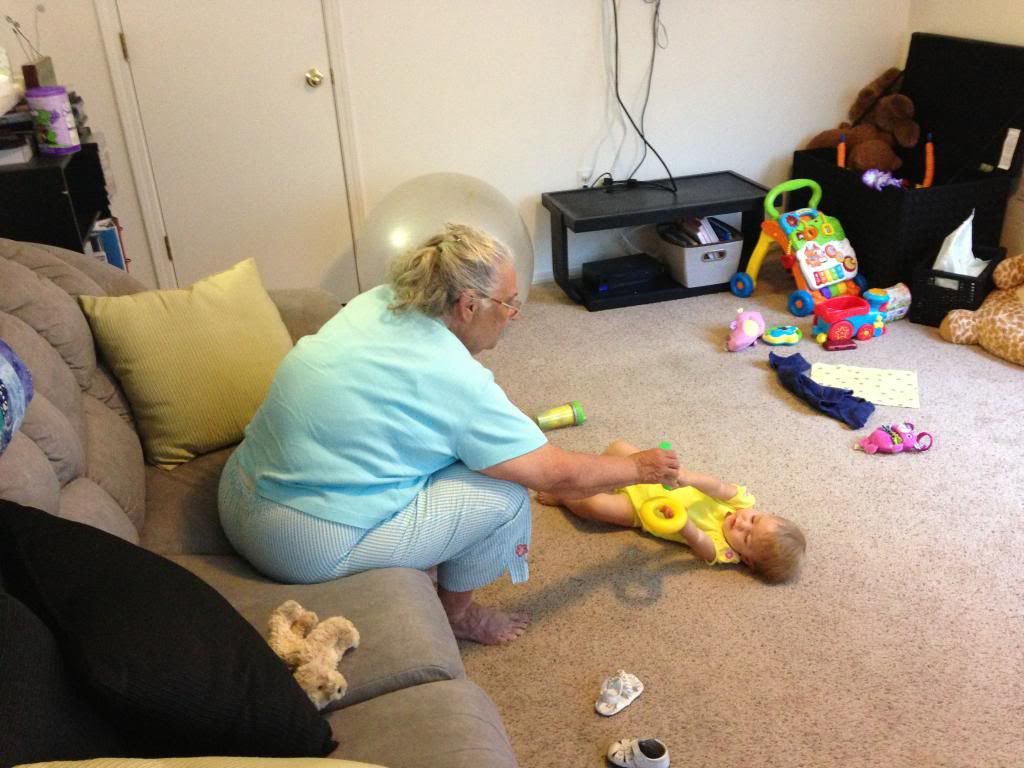 Great Grandma Golloday playing with Brooklyn.
Grandma came with Brooklyn and I to baby signing time class and she was a pro! She picked up the signs so quick and signed with Brooklyn throughout the weekend.
After signing class Grandma wanted to get Brooklyn some late birthday presents. We went to a baby consignment store and she got her a like new Radio Flyer tricycle. Brooklyn LOVES it!! I have a feeling we will be pushing her around on that every day for the rest of the summer and fall! I love it too cause it has a little handle that you can push with so I don't kill my back leaning over. Once she can reach the pedals we can take the handle off. She also got her the cutest little purse with a stuffed puppy that goes inside it. Brooklyn and I had gone to Barnes and Noble the day before and Brooklyn had found it and been carrying it around while we were there and putting things in the purse. The consignment store was right next to Barnes and Noble so it worked out perfectly. That little lady loves dogs.
Cousin Kayden pushing Brooklyn around on her new trike at the splash park.
After nap time on Friday we headed to the splash park where my sister in law and her kids were volunteering at a charity baseball tournament. Brooklyn loved playing with her cousin Kayden who is eight years old. He pushed her on her trike and played on the playground and in the splash pad with her.
Saturday Brooklyn and I went to a birthday party that was an under the sea theme. It was so adorable! It was the daughter of Sara the teacher I did my student teaching under. Molly turned two and Brooklyn loved playing with all of her big girl toys. I now have a million ideas of new toys I want to buy my daughter! She especially loved feeding the little doll her bottle so we will be purchasing her one of those ASAP. Sara was nice enough to even get some dairy free ice cream so that Brooklyn wasn't left out! I am continuously telling Thomas how blessed I was to do my student teaching with such a great cooperating teacher and team of third grade teachers. We are all still in touch and friends and I love that.
Saturday night we dropped off Grandma at my MIL's apartment to visit and we headed to Roaring Springs to meet Andrew (Thomas' brother) and his family. It was SO much fun!! Going at night from 6-10pm got us reduced admission and it made for shorter lines so we got to go on more slides. It was so fun to go with my niece and nephews and see their excitement. Us adults were pretty excited too. Thomas and I would take turns going on slides while the other watched Brooklyn. Lexi enjoyed playing with her in the kiddie area and my sister in law helped watch her too. We will definitely need to make this a yearly activity.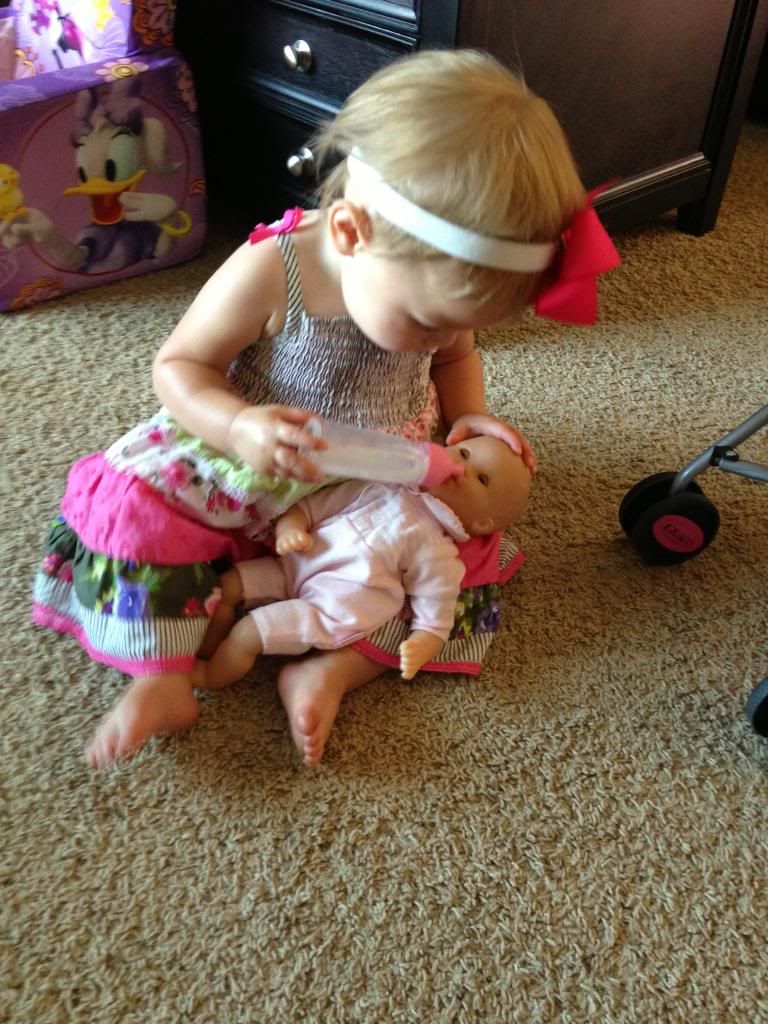 This almost makes me think I should have another baby ;)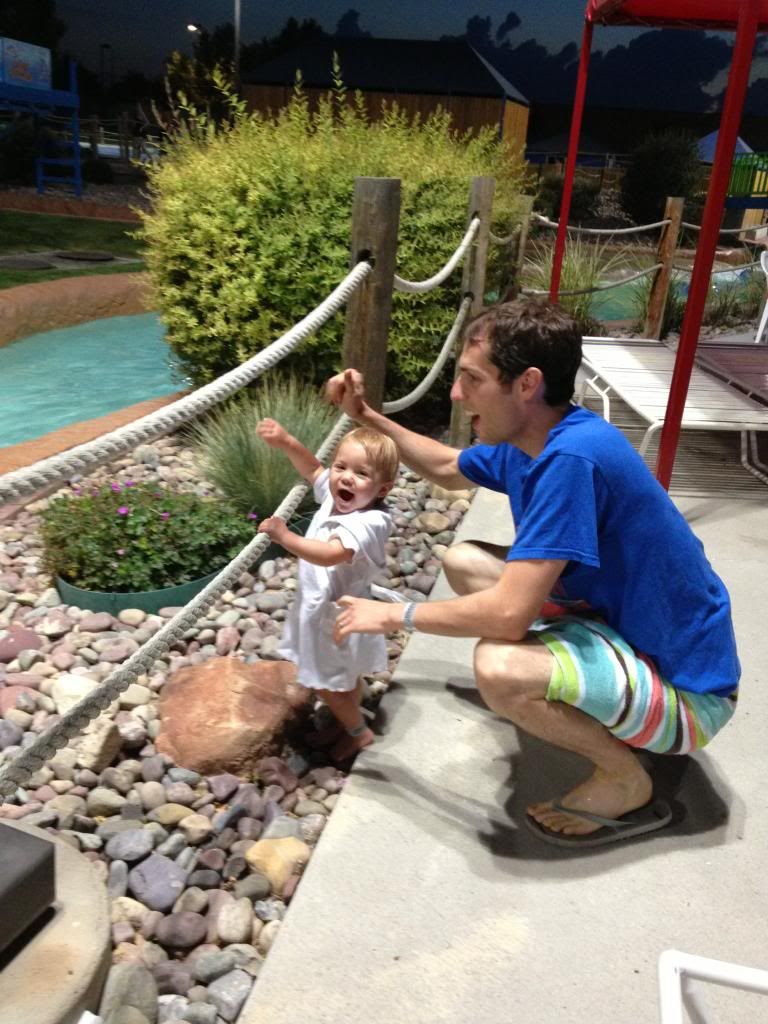 Waving to the people in the lazy river.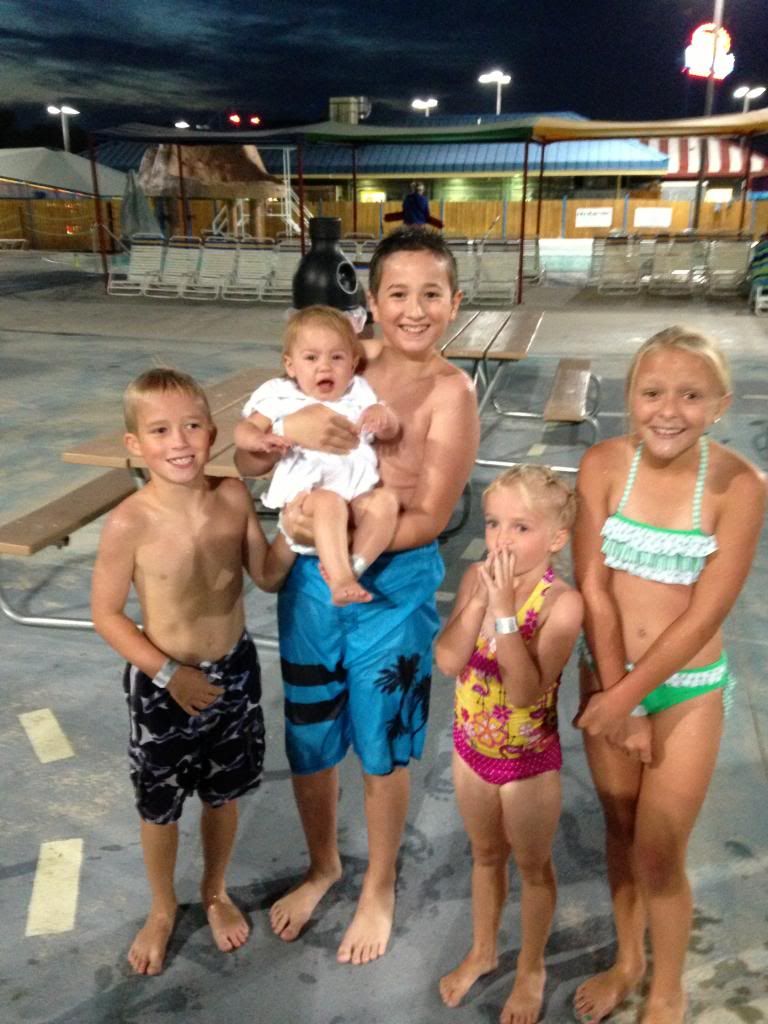 Cousins. Earlier in the night both Thomas and I went on a slide while my SIL Wendy held Brooklyn who was crying. Wendy handed her over to Dylan and she stopped crying. I'm telling you the girl loves boys.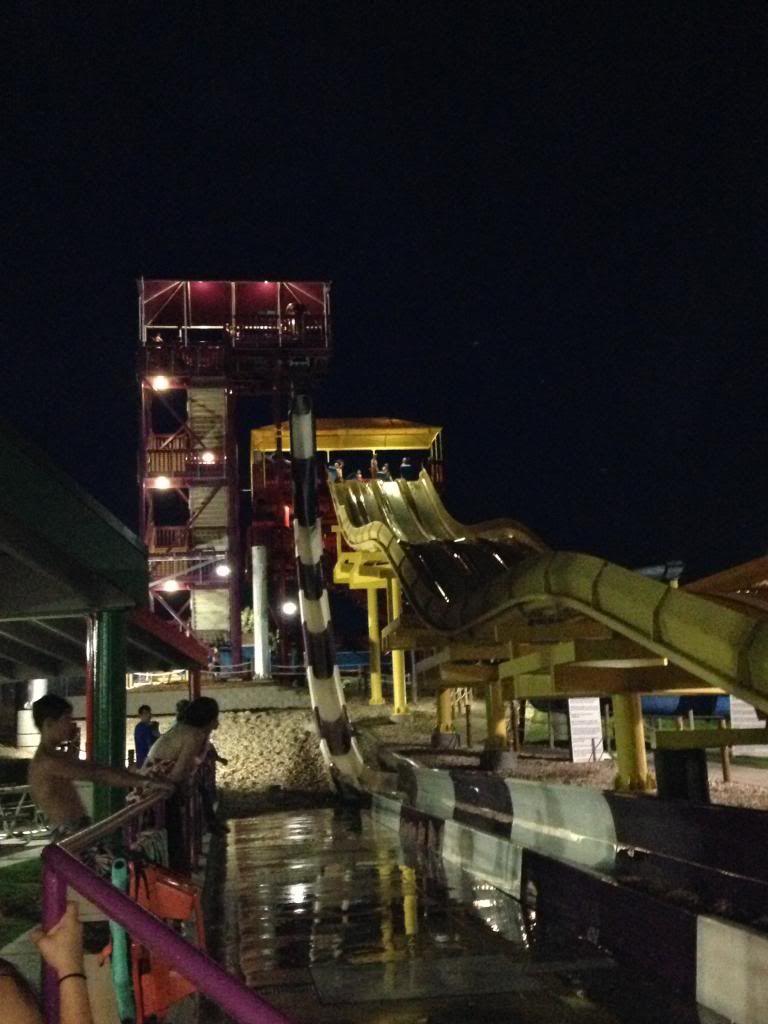 This slide starts you off standing and then the floor drops from beneath you and you go down. It was the last ride of the night for Dylan, Kayden, and Andrew. Thomas and I watched and took video.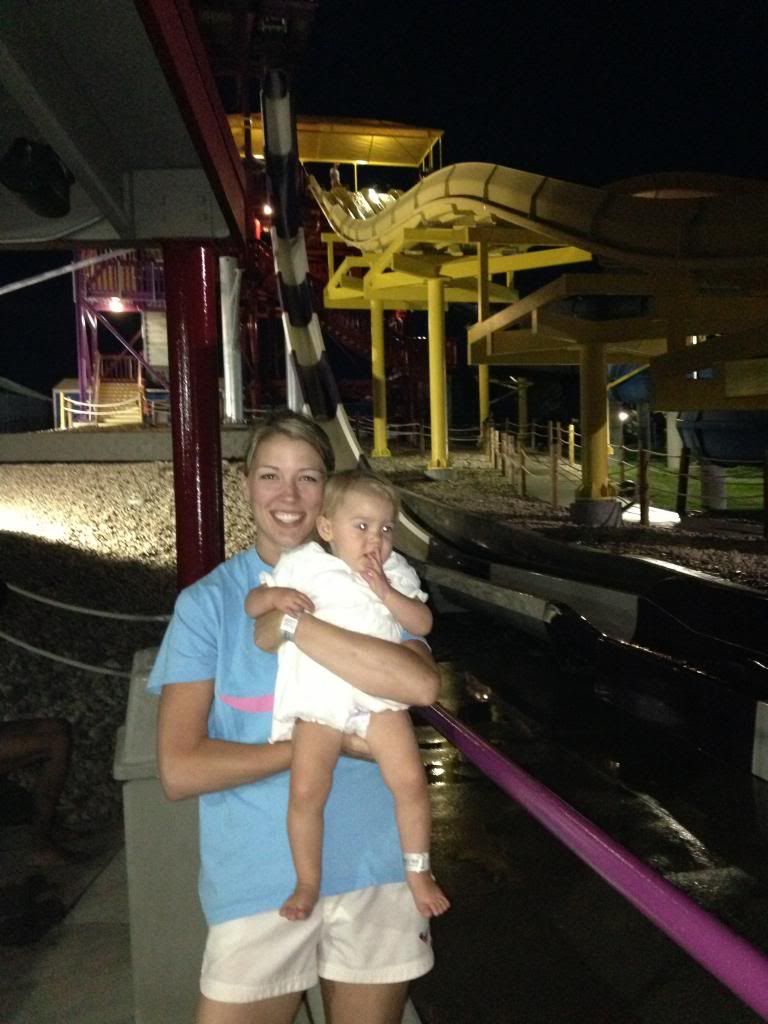 My long legged girl.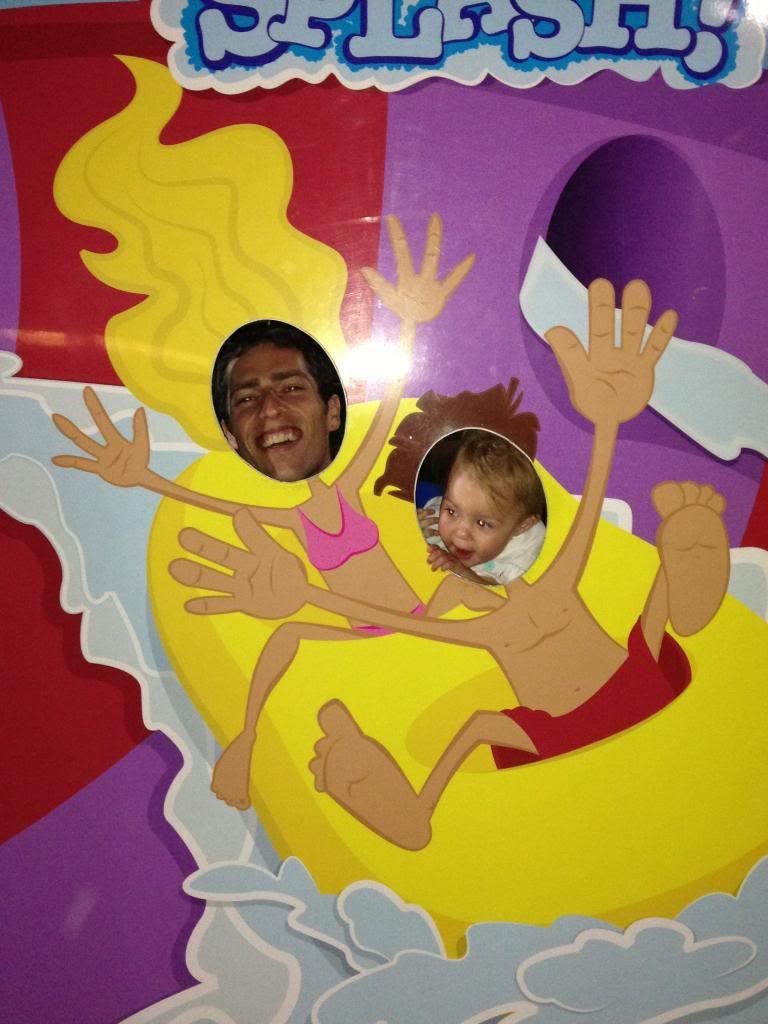 Woohoo!
Lazy river
Brooklyn saying goodbye to cousin Lexi